| | |
| --- | --- |
| | Hospital Information Systems & Electronic Medical Record Systems |
| IP Telephony Software-Based: Customer Management & Call / Contact Centre Solutions | Dental Management System |
Contact us now by filling in our enquiry form or call us at +603 7722 1001 for a consultation.
View our Group Solutions here.


---
LATEST NEWS
1/10/2013
1001Touch@ Bangsar Shopping Centre (28th-29th September 2013)
1001Touch's interactive multi-touch solutions was on display to help promote Land Rover's launch of its cars including the latest series, Range Rover Evoque, at Bangsar Shopping Centre. The event was held on the weekends because there were more crowd flow as compared to weekdays. There were many curious passers-by who stopped for awhile to play with the touchscreen LED . We would like to thank Land Rover for using our touchscreen LED. Below are pictures of the event.
---
12/09/2013
1001Touch@ TasteMIGF (7th-8th September 2013)
Our company was involved in " The Malaysia International Gourmet Festival" which was held at the Sunway Pyramid Convention Centre. The food were prepared by professional chefs and it tasted delicious. It was served in a fine-dining concept.We brought in our largest touchscreen LED which was 84 inches and have it on display to make it more interactive. We would like to thank AsiaReach Events Sdn Bhd(VisionKL) for inviting 1001Technlogies Sdn Bhd to be a part of this wonderful event.
---
24/06/2013
1001Touch @ Archidex 2013 (20 - 23 Jun 2013)

We were recently down at Archidex 2013 (the region's premier architecture, interior design and building exhibition) to showcase 1001Touch interactive architectural solutions, thanks to our partner Bricsys Malaysia.
---
30/5/2013
1001Touch @ The Digital Education Show Asia (27 & 28 May 2013)

Microsoft demonstrated Office 365 on our 1001Touch interactive LED screen with a fantastic reception by visitors to the Digital Education Show Asia, KL Hilton on 27 & 28 May. As part of Microsoft's vision of the "Future Classroom", we gave attendees a taste of enhanced teaching and learning through heightened multi-touch interactivity.
---
22/04/2013
1001Touch @ HELP University Convocation Strategy Seminar
1001Touch's interactive multi-touch solutions were on display during @HELP University's 16th Strategy Seminar in conjunction with its convocation event in Shangri-La Hotel, Kuala Lumpur. The theme of the seminar was "The New Ecology in Education" and drew in an international panel of speakers and participants from across US, Europe and Asia.
---

30/03/2013
1001Touch at Blue Dot Launch, Universiti Teknikal Malaysia

1001Touch powered an interactive presentation of the Blue Dot Centre for Creative Innovation at Universiti Teknikal Malaysia, Melaka on 29 March for Y.B. Dato Seri Mohamed Khaled bin Nordin, Malaysia's Minister of Higher Education.

We also exhibited our interactive products at a concurrent exhibition during the launch event, which drew hundreds of attendees from education, public and corporate sectors with interests in automotive and advanced manufacturing disciplines.
---

08/02/2013
Happy Chinese New Year 2013

The joyous Chinese New Year season is upon us. All of us here at 1001tech Group wish you the best of health, happiness and fortune. Gong Xi Fa Cai!
---

21/12/2012
Merry Christmas & Happy New Year 2013

Have a Merry Christmas & Happy New Year 2013 from all of us at 1001tech Group. We hope that the holiday season brings you good tidings for you and your family.
---

3/12/2012
(Presentation) "Interactive Technology for Enhancing Early Literacy"

Group Executive Chairman, Looi Kien Leong's presentation on "Interactive Technology for Early Literacy" at HELP University's Early Literacy Conference 2012 is now available for viewing here.
---

26/11/2012
1001tech Executive Chairman presents interactive technology at HELP Early Literacy Conference 2012

Group Executive Chairman, Looi Kien Leong presented his views on interactive technology as a method of enhancing early literacy at a forum entitled "The Impact of IT on Early Literacy" as part of HELP University's Early Literacy Conference 2012.

Mr. Looi's presentation, entitled "Interactive Technology for Enhancing Early Literacy" was given to an audience comprising an assortment of early-years educators, pre-school operators, NGOs and government bodies. This was followed by a live demo of the InFocus Mondopad, which gave the audience an opportunity to experience its unique tele-videoconferencing, distance learning, connectivity and whiteboarding features.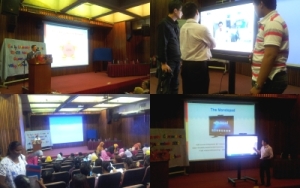 ---

20/11/2012
1001tech Group Executive Chairman at 2012 ASOCIO ICT Summit

The recent ASOCIO ICT Summit 2012 was hosted by Federation of Information Technology Industry and Services Sri Lanka (FITIS) and was held in Hilton Colombo, Sri Lanka from 15 – 17 November 2012. 1001tech Executive Chairman Looi Kien Leong in his role as ASOCIO Chairman, led the successful summit which drew in approximately 150 delegates from ASOCIO economies and Sri Lankan delegates for the conference consisting of business matching, presentations and panel discussions on the topics of Cloud Computing, ICT Security and Mobile Broadband.

At the ASOCIO General Assembly, Chairmanship of ASOCIO was passed from Looi Kien Leong to Kafi Abdullah (BCS), who assumed the role effectively immediately after the Summit for the 2013 / 2014 term.